John Simpson Architects, one of the world's leading firms specializing in New Classicism and New Urbanism, was selected as the design architect for this project as the firm is known for classical public buildings that fit seamlessly with their local surroundings. Stantec was selected as the architect of record, working to make this project a reality. The building reflects the unique character of Notre Dame's architecture program and harmonizes well with the other campus buildings. The Matthew and Joyce Walsh Family Hall of Architecture has been designed for architects and future architects, and symbolizes the mission of the Notre Dame School of Architecture to educate architects and urbanists who design and build -- not just for today's needs, but also for the benefit of future generations.
Parrett provided a large variety of both exterior and interior swing doors and stationary window units. Parrett manufactured these units in hardwood species consisting of hard white maple and riftsawn white oak. Parrett also fully factory-finished these window and door units, with either a custom "green" stain and clear coating applied, or with Parrett's high-performance poly paint finish.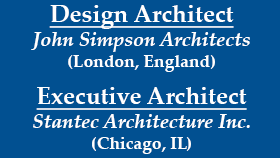 The majority of these doors received commercial hardware including handlesets, pulls, closers, panic bars, continuous hinges, etc.  In addition to the intricate detailing seen on these doors, which included custom casing and mull cover details, custom SDL grille bar embellishments were also specified by the customer. Within Parrett's in-house tooling department, every custom window, door, and accessory profile is able to be matched as requested by our customer. Also of utmost importance was Parrett's time-tested door construction techniques, as some of these door units were over 11 feet tall and require the door sash to remain stable once installed in the field. Custom Millwork of South Bend, IN was also a vital part of this intricate project. Parrett is very proud to contribute to this new extension of Notre Dame's illustrious campus and the future of its architectural program.