President William McKinley High School in Honolulu, Hawaii was originally founded in 1865 and renamed to memorialize the twenty-fifth president in 1907. As one of the oldest public schools in Hawaii, many of the school's buildings are listed on the National Register of Historic Places. The Works Progress Administration (WPA)–financed Senior Core Building (Building W) was constructed in 1939 as part of the historic campus quadrangle. It was designed by master architect Vladimir Ossipoff in the Hawaii Regional architectural style to complement the original school buildings.
Parrett manufactured window units that were constructed of vertical grain douglas fir and then factory-primed and field-painted. A custom-blended wood preservative treatment was also utilized to ensure that these windows would have exceptional long-term life once installed in the tropical environment.
Stationary direct set transoms, traditional profile hoppers, and weight and chain double-hung windows were manufactured by Parrett, with all operable windows featuring hardware in a true oil-rubbed bronze finish. Parrett provided special hardware that allowed for "pole hook" operation of any windows that were installed in otherwise difficult-to-reach locations.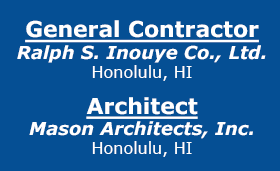 The units also featured single pane laminated glass with a .090 interlayer to enhance performance in any possible storm-related impacts. Depending on the installation location, some units were glazed with obscure pattern glass as well for privacy. True-Divided Lite muntins were also incorporated in addition to the several other custom profiles that Parrett created to match the original windows, such as hung window ogee sash lugs. Parrett was proud to be a part of the renovation of this school, which stands ready to support future generations of faculty and students.