The North West Tower (now The Robey Hotel) was built in 1929 as an art deco skyscraper that served as a large office building. The 12 story building was originally designed by Perkins, Chatten, & Hammond. The tower is considered to be one of the most iconic and tallest buildings in Chicago's Wicker Park and Bucktown neighborhoods. In 2014, an extensive renovation was undertaken to transform the building into a 69-room boutique hotel called "The Robey."
The hotel features a contemporary, yet old school retro vibe. However, the rooms do offer smart electronics such as electronic blinds on the windows. The tower features a restaurant, lounge, and rooftop cocktail lounge which offers a beautiful, unobstructed skyline view of downtown Chicago. Pepper Construction completed the renovation work in the fall of 2016.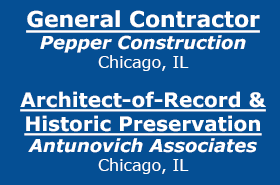 Parrett's work consisted of manufacturing 425 aluminum-clad concealed spiral balance hung windows. The exterior extruded aluminum cladding consisted of 9 custom profiles, which along with 13 custom wood profiles, proved to be an exact match to the original wood windows.