Standard Crankout Hardware
Parrett awnings typically come equipped with high-performing, reliable multipoint locking hardware that will ensure strong weather performance and smooth, efficient operation for years to come. We also have extensive experience with a variety of other awning hardware systems as seen in the photo gallery below.

Crankout awnings are available with collapsible handle styles as shown in the examples above. Single and double arm operators are specified by Parrett based on the size and weight of the operating awning sash. Typical awning lock is shown above at far right.
Crankout Hardware Metallic Finishes

NOTE FOR METALLIC FINISHES ON THIS PAGE
* Physical Vapor Deposition (PVD) – The PVD process bonds elements in a controlled environment that produces superior decorative finishes and corrosion performance compared to standard plating processes. Contact Parrett to ensure a specific finish is currently available on your specified crankout operator.
Crankout Hardware Painted Finishes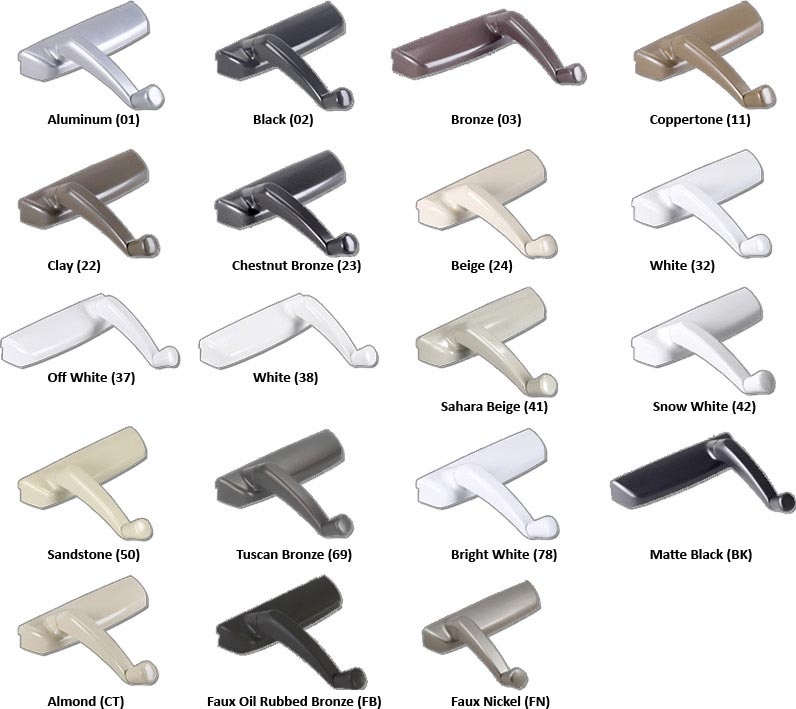 Parrett has many other crankout hardware designs available and will work with you to meet any custom specification. Reach out to us at info@parrettwindows.com for more information.